BLACK FRIDAY - UP TO 25% OFF RUG KITS!
BLACK FRIDAY - UP TO 25% OFF RUG KITS!
BLACK FRIDAY - UP TO 25% OFF RUG KITS!
BLACK FRIDAY - UP TO 25% OFF RUG KITS!
BLACK FRIDAY - UP TO 25% OFF RUG KITS!
BLACK FRIDAY - UP TO 25% OFF RUG KITS!
PEACHY Rug Making Kit
Regular price

$89.00

Sale price

$66.00

Unit price

per
✨ Black Friday Sale - Ends Monday 29th November ✨
✨ THE ORIGINAL RUG MAKING KITS ✨

Who's peachy keen to get creative?! Our PEACHY rug is effortlessly cute and will bring a pop of fun to your space. This juicy design is also easy peasy peachy-squeezey with it's simple shapes and bold line work, so perfect for those rug-making newbies out there!

We're all about making creativity accessible with our easy DIY kits! And we mean easy. With a high quality pre-backed rug base (so you don't need to mess about gluing or sewing) and only one technique to learn - they're easy as pie.

We also believe in loving what you create! Your rug will become a treasured piece of home decor. Not only will you have amazing memories making it, but also using it!

It's time to romanticise the creative in you. You got this.

Measurements: 48 x 48cm


Keeping you in the loop! 🧶 We're in the process of reducing our rug sizes marginally to make the experience of creating your rug even better. We received lots of feedback that the rugs were super fun, but taking quite a while to complete. Our new rug sizes are only 10cm smaller but can be finished much more quickly! So you can create a beautiful piece for your home without too much hassle 🎉
Each kit includes:

⭐ Detailed and clear instructions

⭐ Premium wooden latch hook

⭐ Professionally-backed rug canvas with printed design

⭐ Pre-cut yarn in each colour (plus loads extra for practice)

You'll also need scissors while completing your rug. We recommend using medium sized scissors that are nice and sharp so you get clean cuts on your yarn!

✂️ You can use any scissors you are comfortable with, but we recommend our 'Rug Trimming Scissors' as they are the perfect size for working on your rug! They are extra sharp and made of high quality steel.
The only other piece of equipment you will need is a pair of scissors.

These can be any kind of scissors - as long as they snip! 

✂️ We love and recommend our 'Rug Trimming Scissors' as they are the perfect size for working on your rug! They are not too big (like kitchen scissors) and not too small (like embroidery scissors) - making them just right for rug making. 

They're also extra sharp and made of high quality steel, so will last you many years into your crafting journey.
Craft Club offers flat rate shipping of $8 for all kits. 

Spend over $120 and get free shipping!

Want it sooner? 📦 We have express shipping available for $15.

Live overseas? ✈️ We ship worldwide with a flat International shipping rate of $20.
Are you a total newbie? No problem!

Here at Craft Club our mission is to make creativity as accessible as possible to all. And we do this by offering DIY kits that are super easy to pick up - even if you've never done a single crafty thing in your life (or at least not since primary school)! 

Our rug kits require one easy skill to learn. And we provide very detailed instructions and a video tutorial on how to master it. Once you've practiced making a knot with your yarn - you'll be on your way!

Just repeat that knot a few hundred times and you'll have yourself a whole rug that you've created with your own bare hands. How amazing is that?! 🧶✨
Customer Reviews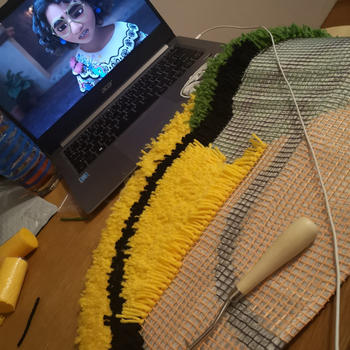 01/15/2022
Absolute Love, curing a craft block.
The Rug making kit is amazing, I have various other hobbies that I'm currently a bit stock on progressing. So the peachy rug kit has given me something easy and crafty to complete. Everything is in the box and instructions are clear and simple. Love love love!
Beth F.

Australia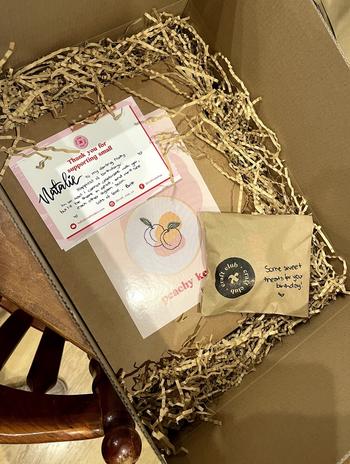 07/31/2021
The perfect gift
I ordered the Peachy Rug, as well as the Triptych cross stitch kit for my best friend who is stuck in Sydney Lockdown during her birthday. I sent Nakisah a message to ask if the parcel could be sent without an invoice and a little birthday card. Nakisah replied straight away, and also included a little birthday gift in the parcel! It was so beautifully packaged, and my friend absolutely loved the gift! I will definitely be buying from Craft Club again
Brittany L.

AU
07/24/2021
Perfect for lockdown!
I have never enjoyed making something so much before! The instructions were clear and simple and the kit has everything you need and then some! Rug looks amazing and so professional!! I've recommend this to everyone I know and will continue to!
Lauren R.

AU
03/05/2022
Love my Peachy Rug kit
This is such a great little kit with everything you need, and I started on it straight out of the box. I really like the design and am enjoying seeing it all come together! Great that there's an option to watch a video demonstration on how to latch hook on the site as it's not something I've tried before. Would definitely recommend, and I think it would make a really good gift for someone who's a bit crafty.
Wendy H.

Australia
02/08/2022
Who knew I was crafty?!
I'm three quarters done with my peachy rug and I'm having so much fun! It's such a chill activity to do while watching telly or listening to music. I'm super excited to finish it off and display it in pride of place
Kaitlin M.

Australia
Choosing a selection results in a full page refresh.