FLOWER BOMB - RAINBOW Rug Making Kit
Regular price

$0.00

Sale price

$57.00

Unit price

per
✨ THE ORIGINAL RUG MAKING KITS ✨

Our FLOWER BOMB - RAINBOW rug is just that, an explosion of colour. What better way to brighten up your space than this rainbow creation?! With a delicious combo of pinks, green, purple, blue and orange - you've got every shade you could every need. 

We're all about making creativity accessible with our easy DIY kits! And we mean easy. With a high quality pre-backed rug base (so you don't need to mess about gluing or sewing) and only one technique to learn - they're easy as pie. 

We also believe in loving what you create! Your rug will become a treasured piece of home decor. Not only will you have amazing memories making it, but also using it!

It's time to romanticise the creative in you. You got this.

This design was previously named the 'Colour Bomb' Rug kit! If you've preordered our colour bomb kit, please know it is the exact same rug just with a new name.

Measurements: 48 x 48cm
Each kit includes:

⭐ Detailed and clear instructions

⭐ Premium wooden latch hook

⭐ Professionally-backed rug canvas with printed design

⭐ Pre-cut yarn in each colour (plus loads extra for practice)

You'll also need scissors while completing your rug. We recommend using medium sized scissors that are nice and sharp so you get clean cuts on your yarn!

✂️ You can use any scissors you are comfortable with, but we recommend our 'Rug Trimming Scissors' as they are the perfect size for working on your rug! They are extra sharp and made of high quality steel.
When you've finished your rug, there are loads of different ways that you can use it!

🌼 As a decorative rug on your floor

🐶 As a pet bed (they're pet magnets, I promise you)

🪞 Hung on your wall (with clear decor command hooks)

🪴 As a statement piece on a coffee table

🪑 Hung over a chair or armchair as a fluffy back rest
Craft Club offers flat rate shipping of $7.95 for all kits. Spend over $120 and get free regular shipping!

Want it sooner? 📦 We have express shipping available for $14.95.

All NZ orders have flat rate shipping of $8.95 NZD for Regular Shipping and $14.95 NZD for Express Shipping.

Live overseas? ✈️ We ship worldwide:

UK & Europe Flat Rate: £11 Pounds and £27 Pounds for Express DHL Shipping.

US Flat Rate: $9 USD for Regular Shipping and $20 USD for Express DHL Shipping. Or, spend over $130 USD and get FREE Express Shipping!

Rest of World: $29.95 AUD for Regular Shipping and $49.95 for Express Shipping
The gift that gives twice! Our kits are not only a wonderful object to own but you are also giving the gift of experience.

Our latch hook kits have been designed to have the perfect balance of creativity and engagement. Making them the an ideal mindful activity to get you away from your screen and using your hands.

They only involve learning one technique, so once you've mastered it you're free to create your rug at your own pace. By pre-printing the pattern we've freed up your attention - why not listen to an audiobook or watch your favourite series? You can take time for yourself in your own way.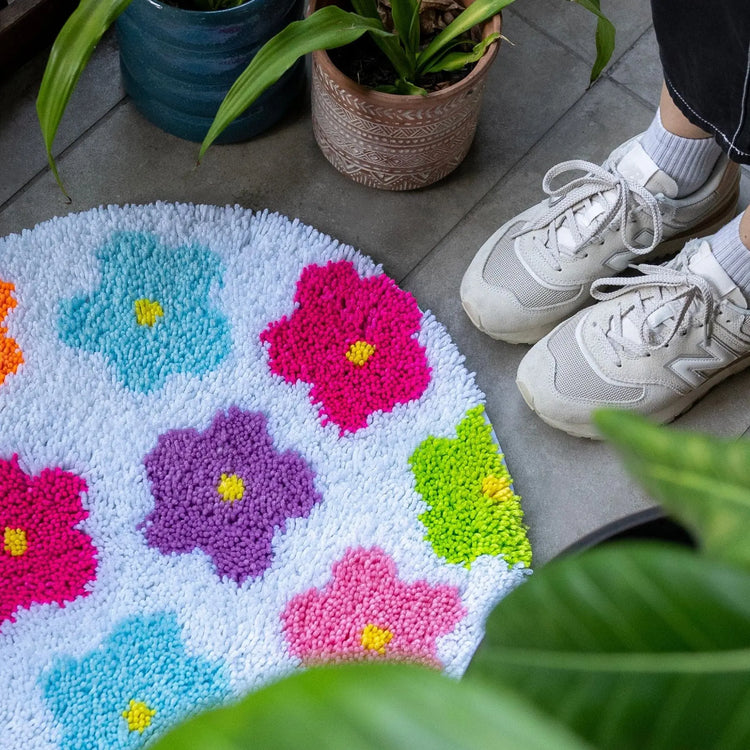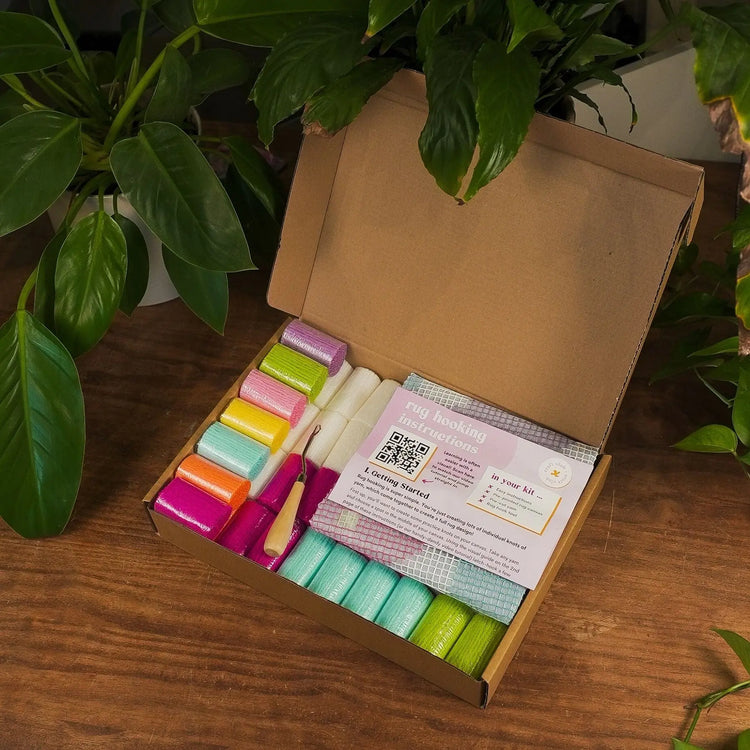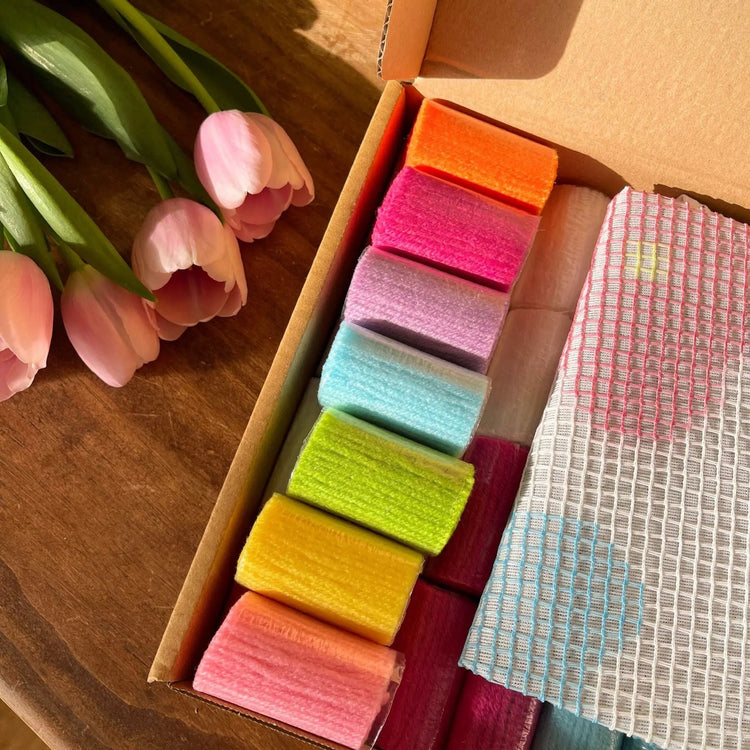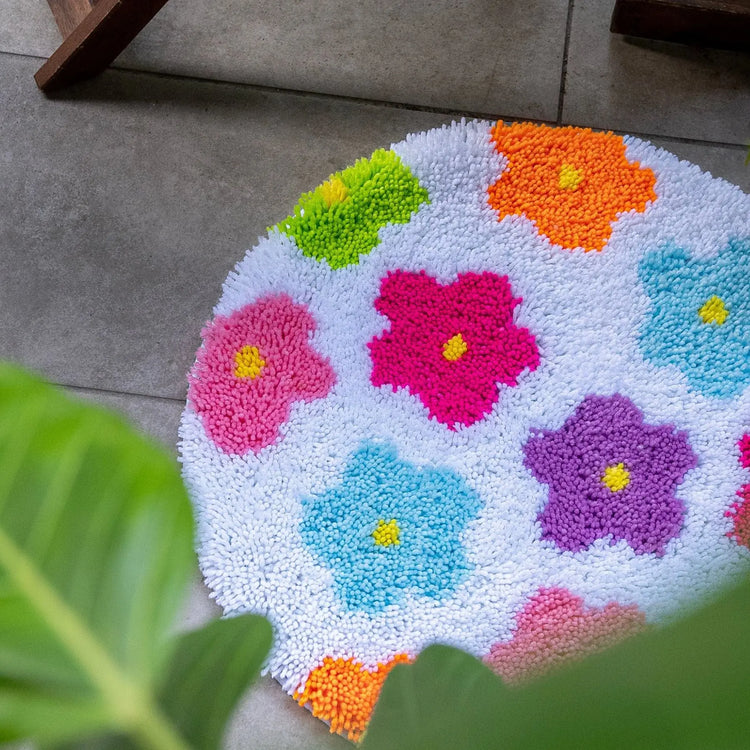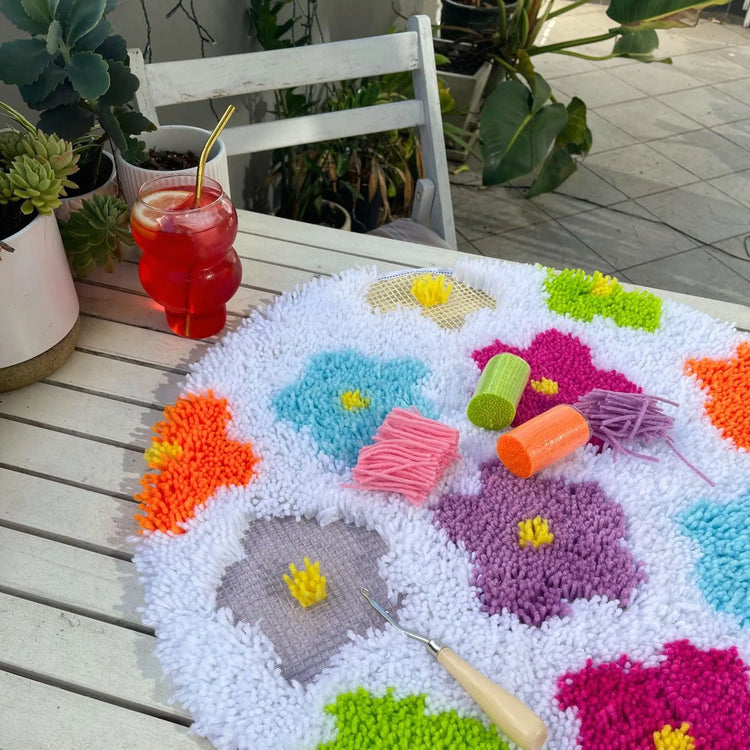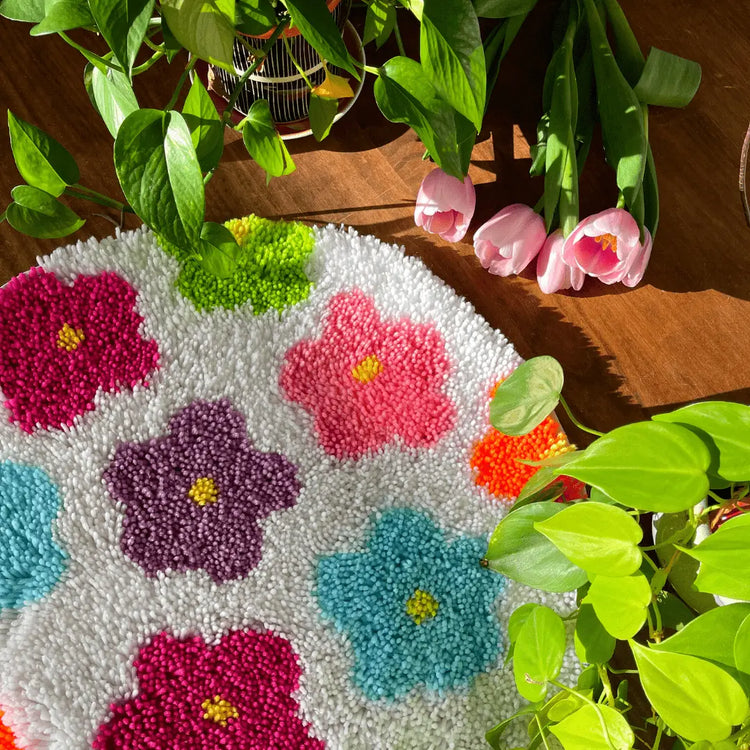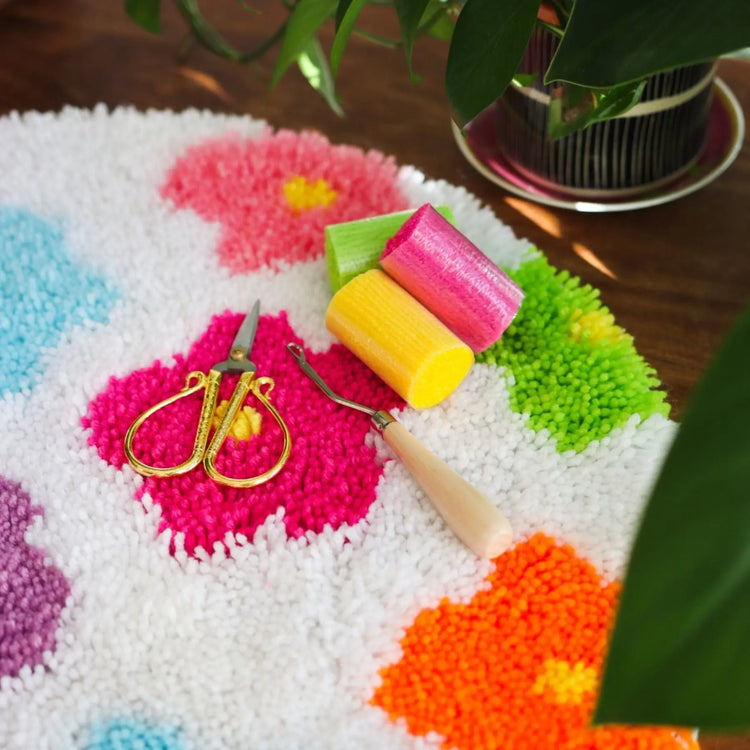 Switch Off & Stitch Instead!

Our kits are the perfect mindfulness activity to keep your hands busy in front of a good movie.

Easy (and Addictive) as Pie

Latch hooking is incredibly easy. You only need to learn a single knot to complete our kit.

Founder Support

If you struggle with your kit, Nakisah, our Founder, will give you a one on one Zoom workshop.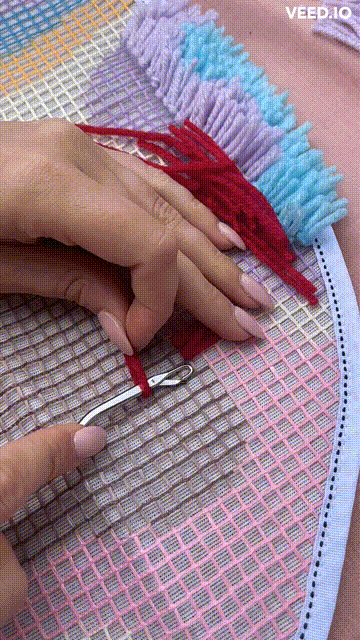 What is Latch Hooking?
The Perfect Activity Whilst You're Watching Netflix!
Latch-hooking is a super simple technique that allows you to create gorgeous rugs with affordable materials.

You're simply learning how to make a knot with your latch hook, then repeating the same simple action with each colour section you need.
Frequently Asked Questions
No! And we really mean it. Latch-hooking is a super simple technique that allows you to create gorgeous shaggy bags or rugs with affordable materials. You're simply learning how to make a knot with your latch hook, then repeating the same simple action with each colour section you need. Our kits include pre-printed canvas meaning that you don't need any complicated patterns. All you need is your kit and you've got everything you need to create a masterpiece!
What are the benefits of latch hooking?

Aside from being totally addictive, latch hooking is a fantastic tool for mindfulness. If you've ever tried meditation and found it too hard to focus, this activity is for you. It's keeps you engaged whilst helping keep your hands busy. This makes it perfect for doing it while you watch your favourite show or listen to a podcast, helping you to avoid distractions like scrolling on your phone. Crafting is a proven way to help with stress or anxious feelings. Latch hooking is a simple technique which makes it a really accessible craft to learn even if you've never done anything creative before.
What if I struggle with the kit?

Our kits are designed to be easy. They come with pre-printed backing that you can easily follow and simple instructions. We also provide a video tutorial if you prefer to watch and stitch along!

Finally, if you really struggle, the Founder of Craft Club will personally give you a 30 minute class via Zoom.
Customer Reviews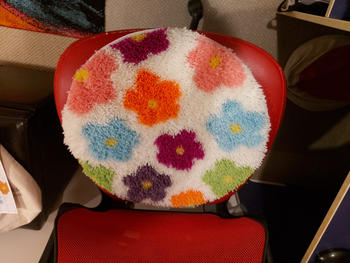 07/02/2023
Lovely, fun activity
Had lots of fun making my flower rug. Very relaxing. The colours are nice and bright and the instructions are easy.
Anonymous

Australia
10/16/2023
Rainbow Flower Rug - Just lovely
Thank you for my Rainbow Flower Rug, I am yet to finish it, but enjoy doing a little bit each night. Can't wait for it to be complete, have the perfect spot! Then I'll grab another for my other spare room!
09/05/2023
Just what I needed!
I love the flower bomb kit so much. Bright, colourful goodness. I loved chatting to Nakisah over instagram, we connected so well. Latch hook sets help with anxiety/OCD as they keep your hands busy and you can stay focused. Forever grateful x
Laura P.

Australia
07/27/2023
Creative Mindfulness
Onto my third rug making kit! Love how easy the instructions are to follow and the freedom to take the project with you on planes, camping trips or to the couch for a netflix session. Makes for a great way to get creative without all of the fuss. Highly recommend!
Alexandra B.

Australia
07/24/2023
Great project!
It was a great project to start on and finish - it definitely was something that took me a lite bit to get a good hang of, but after a few hooks it was quite easy! It turned out really well, I am still yet to tidy it up with a trim, but it looks amazing so far. I would love a larger size, but I probably don't have the time - still fun!
Erica W.

Australia
Choosing a selection results in a full page refresh.