FAST LANE Tote Bag Kit | Latch Hook Tote Bag
Regular price

$50.00

Sale price

$45.00

Unit price

per
✨ Create your very own latch-hook tote bag with our newest crafty kit! ✨


Take on the world with our raciest design yet. Our FAST LANE Latch Hook Tote Bag comes with five extra colour options so you can create a bag that's totally unique and perfectly you. Practice saying "Thanks! I made it" because it'll be coming up a lot.

We're all about making creativity accessible with our easy DIY kits! And we mean easy. With a high quality canvas backing (we don't use flimsy canvas) and only one technique to learn - they're easy as pie.

We also believe in loving what you create! Your bag will become a practical and cute staple in your wardrobe. Not only will you have amazing memories making it, but also wearing it!

It's time to romanticise the creative in you. You got this.

Measurements: Approx. 33 x 33cm bag with 50cm strap length.
Each kit includes:

⭐ Detailed and clear instructions

⭐ Premium wooden latch hook

⭐ Pre-printed tote bag design with professional canvas backing

⭐ Pre-cut yarn in each colour (plus a bit extra for practice)
The only other piece of equipment you will need is a pair of scissors.

These can be any kind of scissors - as long as they snip! 

✂️ We love and recommend our 'Rug Trimming Scissors' as they are the perfect size for trimming latch hook projects! They are not too big (like kitchen scissors) and not too small (like embroidery scissors) - making them just right for shaggy creations. 

They're also extra sharp and made of high quality steel, so will last you many years into your crafting journey.
Craft Club offers flat rate shipping of $7.95 for all kits. Spend over $120 and get free regular shipping!

Want it sooner? 📦 We have express shipping available for $14.95.

All NZ orders have flat rate shipping of $8.95 NZD for Regular Shipping and $14.95 NZD for Express Shipping.

Live overseas? ✈️ We ship worldwide:

UK & Europe Flat Rate: £11 Pounds and £27 Pounds for Express DHL Shipping.

US Flat Rate: $9 USD for Regular Shipping and $20 USD for Express DHL Shipping. Or, spend over $130 USD and get FREE Express Shipping!

Rest of World: $29.95 AUD for Regular Shipping and $49.95 for Express Shipping
The gift that gives twice! Our tote kits are not only an adorable accessory but you are giving the gift of experience as well.

Our latch hook kits have been designed to have the perfect balance of creativity and engagement. Making them the an ideal mindful activity to get you away from your screen and using your hands.

They only involve learning one technique, so once you've mastered it you're free to create your rug at your own pace. By pre-printing the pattern we've freed up your attention - why not listen to an audiobook or watch your favorite series? You can take time for yourself in your own way.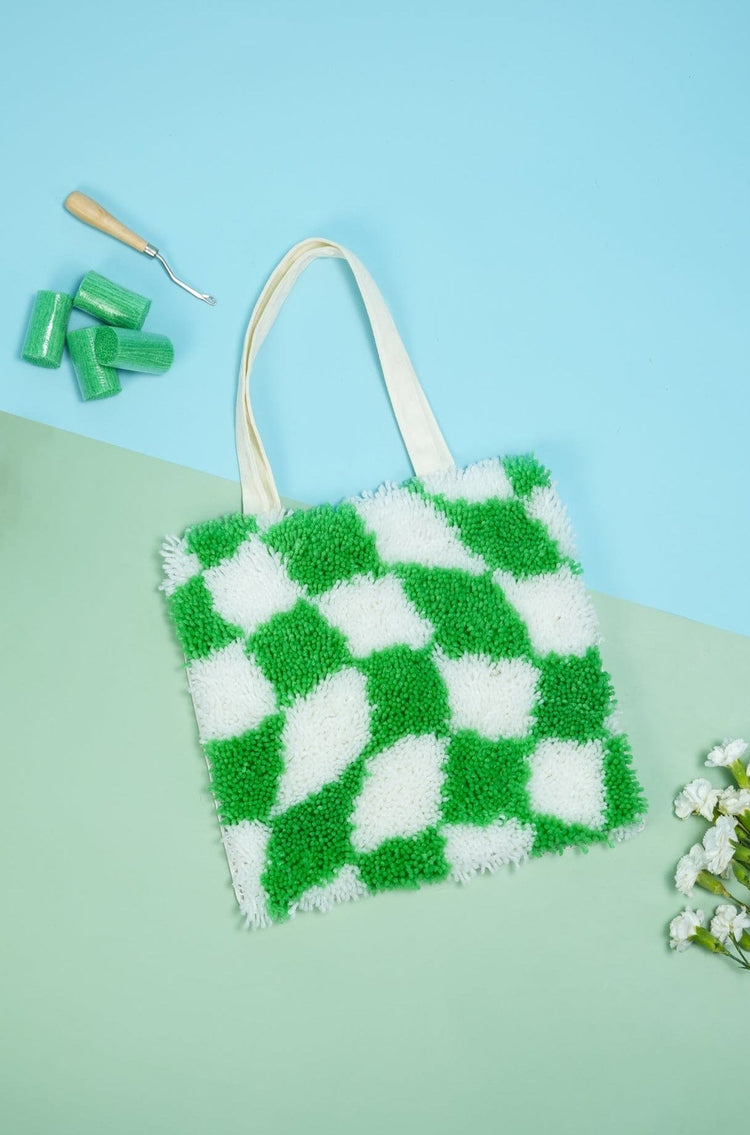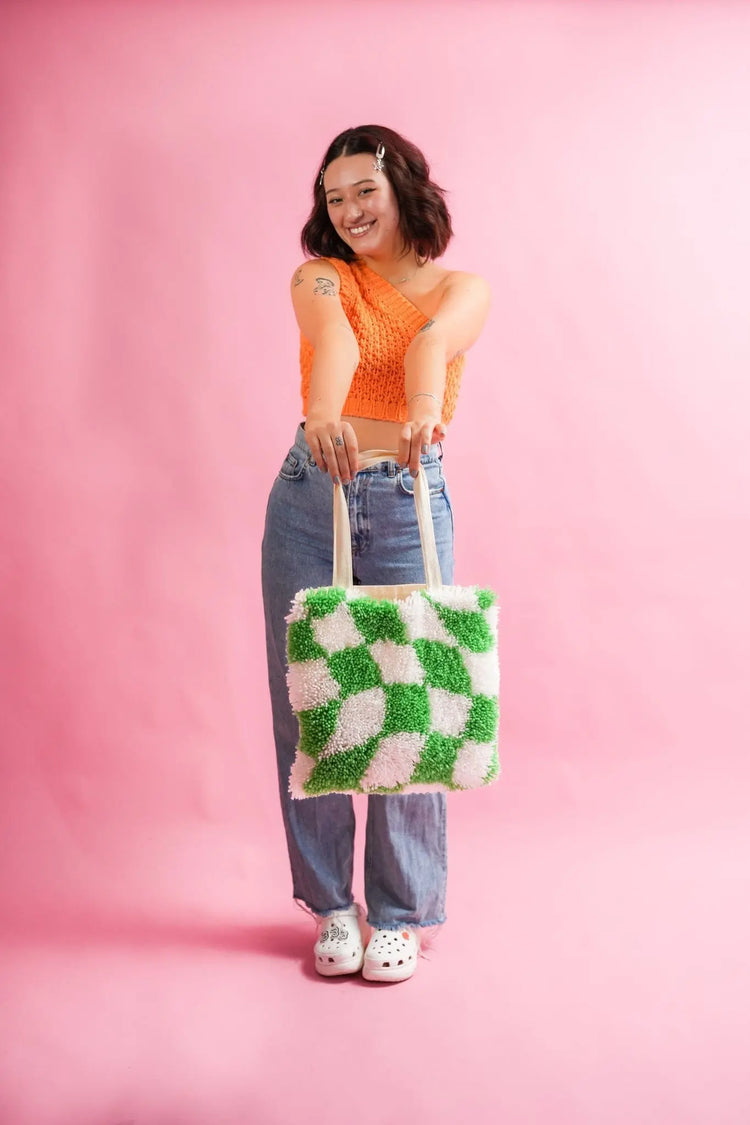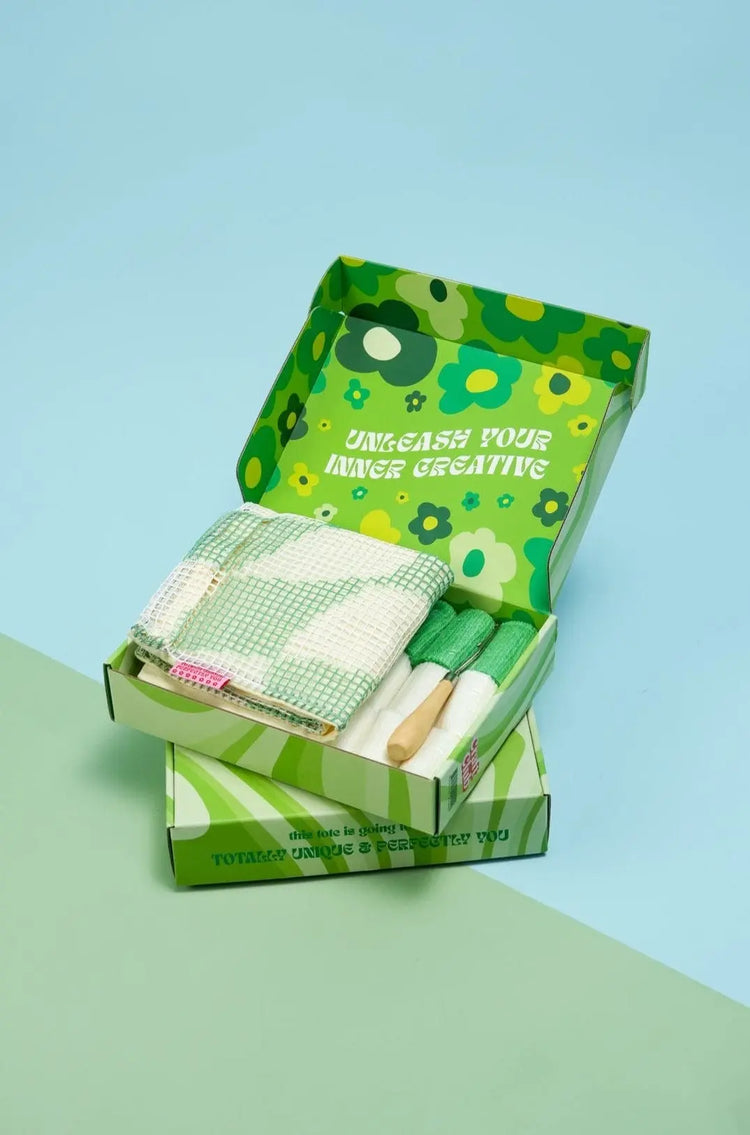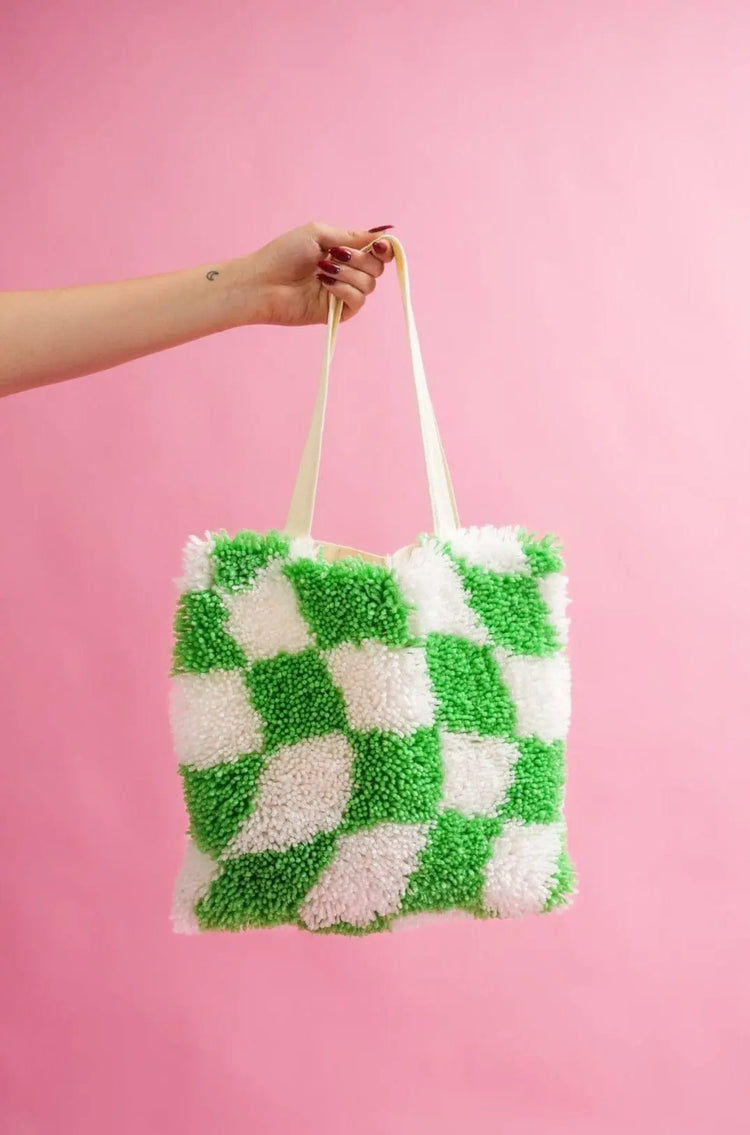 Switch Off & Stitch Instead!

Our kits are the perfect mindfulness activity to keep your hands busy in front of a good movie.

Easy (and Addictive) as Pie

Latch hooking is incredibly easy. You only need to learn a single knot to complete our kit.

Founder Support

If you struggle with your kit, Nakisah, our Founder, will give you a one on one Zoom workshop.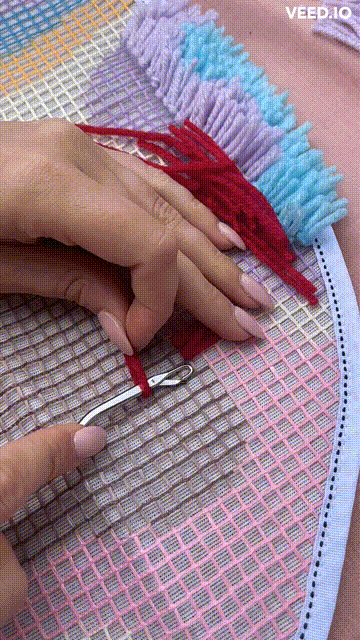 What is Latch Hooking?
The Perfect Activity Whilst You're Watching Netflix!
Latch-hooking is a super simple technique that allows you to create gorgeous rugs with affordable materials.

You're simply learning how to make a knot with your latch hook, then repeating the same simple action with each colour section you need.
Frequently Asked Questions
No! And we really mean it. Latch-hooking is a super simple technique that allows you to create gorgeous shaggy bags or rugs with affordable materials. You're simply learning how to make a knot with your latch hook, then repeating the same simple action with each colour section you need. Our kits include pre-printed canvas meaning that you don't need any complicated patterns. All you need is your kit and you've got everything you need to create a masterpiece!
What are the benefits of latch hooking?

Aside from being totally addictive, latch hooking is a fantastic tool for mindfulness. If you've ever tried meditation and found it too hard to focus, this activity is for you. It's keeps you engaged whilst helping keep your hands busy. This makes it perfect for doing it while you watch your favourite show or listen to a podcast, helping you to avoid distractions like scrolling on your phone. Crafting is a proven way to help with stress or anxious feelings. Latch hooking is a simple technique which makes it a really accessible craft to learn even if you've never done anything creative before.
What if I struggle with the kit?

Our kits are designed to be easy. They come with pre-printed backing that you can easily follow and simple instructions. We also provide a video tutorial if you prefer to watch and stitch along!

Finally, if you really struggle, the Founder of Craft Club will personally give you a 30 minute class via Zoom.
Choosing a selection results in a full page refresh.