DAISY Rug Making Kit
Regular price

Sale price

$62.00

Unit price

per
⚠️ Get in quick! Limited quantities for our 1st release
✨ THE ORIGINAL RUG MAKING KITS ✨

Neutral without the neutrals. Our DAISY rug is simple and sweet, with its light blush background and soft floral design. Perfect for adding some cottage-core energy to your space.

We're all about making creativity accessible with our easy DIY kits! And we mean easy. With a high quality pre-backed rug base (so you don't need to mess about gluing or sewing) and only one technique to learn - they're easy as pie.

We also believe in loving what you create! Your rug will become a treasured piece of home decor. Not only will you have amazing memories making it, but also using it!

It's time to romanticise the creative in you. You got this.

Floor Rug Size: 60cm x 40cm
Each kit includes:

⭐ Detailed and clear instructions

⭐ Premium wooden latch hook

⭐ Professionally-backed rug canvas with printed design

⭐ Pre-cut yarn in each colour (plus loads extra for practice)

You'll also need scissors while completing your rug. We recommend using medium sized scissors that are nice and sharp so you get clean cuts on your yarn!

✂️ You can use any scissors you are comfortable with, but we recommend our 'Rug Trimming Scissors' as they are the perfect size for working on your rug! They are extra sharp and made of high quality steel.
The only other piece of equipment you will need is a pair of scissors.

These can be any kind of scissors - as long as they snip! 

✂️ We love and recommend our 'Rug Trimming Scissors' as they are the perfect size for trimming latch hook projects! They are not too big (like kitchen scissors) and not too small (like embroidery scissors) - making them just right for shaggy creations. 

They're also extra sharp and made of high quality steel, so will last you many years into your crafting journey.
Craft Club offers flat rate shipping of $7.95 for all kits in Australia. Spend over $120 and get free shipping!

Want it sooner? 📦 We have express shipping available for $14.95.

🇳🇿 All NZ orders have flat rate shipping of $9.95 NZD.

Live overseas? ✈️ We ship worldwide:

UK & Europe Flat Rate: £11 Pounds

US Flat Rate: $7 USD

Rest of World: $35 AUD
The gift that gives twice! Our kits are not only a wonderful object to own but you are also giving the gift of experience.

Our latch hook kits have been designed to have the perfect balance of creativity and engagement. Making them the an ideal mindful activity to get you away from your screen and using your hands.

They only involve learning one technique, so once you've mastered it you're free to create your rug at your own pace. By pre-printing the pattern we've freed up your attention - why not listen to an audiobook or watch your favourite series? You can take time for yourself in your own way.
Switch Off & Stitch Instead!

Our kits are the perfect mindfulness activity to keep your hands busy in front of a good movie.

Easy (and Addictive) as Pie

Latch hooking is incredibly easy. You only need to learn a single knot to complete our kit.

Founder Support

If you struggle with your kit, Nakisah, our Founder, will give you a one on one Zoom workshop.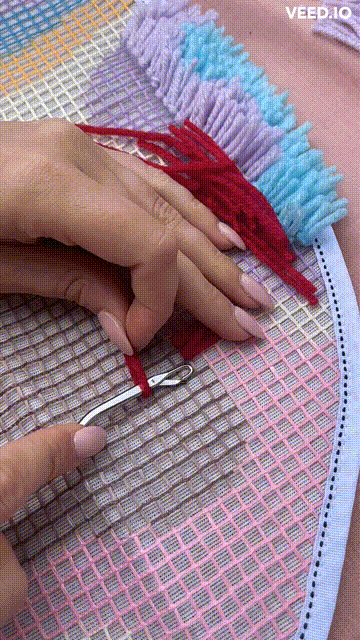 What is Latch Hooking?
The Perfect Activity Whilst You're Watching Netflix!
Latch-hooking is a super simple technique that allows you to create gorgeous rugs with affordable materials.

You're simply learning how to make a knot with your latch hook, then repeating the same simple action with each colour section you need.
Frequently Asked Questions
No! And we really mean it. Latch-hooking is a super simple technique that allows you to create gorgeous shaggy bags or rugs with affordable materials. You're simply learning how to make a knot with your latch hook, then repeating the same simple action with each colour section you need. Our kits include pre-printed canvas meaning that you don't need any complicated patterns. All you need is your kit and you've got everything you need to create a masterpiece!
What are the benefits of latch hooking?

Aside from being totally addictive, latch hooking is a fantastic tool for mindfulness. If you've ever tried meditation and found it too hard to focus, this activity is for you. It's keeps you engaged whilst helping keep your hands busy. This makes it perfect for doing it while you watch your favourite show or listen to a podcast, helping you to avoid distractions like scrolling on your phone. Crafting is a proven way to help with stress or anxious feelings. Latch hooking is a simple technique which makes it a really accessible craft to learn even if you've never done anything creative before.
What if I struggle with the kit?

Our kits are designed to be easy. They come with pre-printed backing that you can easily follow and simple instructions. We also provide a video tutorial if you prefer to watch and stitch along!

Finally, if you really struggle, the Founder of Craft Club will personally give you a 30 minute class via Zoom.
Customer Reviews
03/02/2023
Was brought as a present
The rug kit inside the box looks good & I was looking forward to gifting this. Unfortunately how the product was shipped let my excitement down. The postage label was just stuck on the box over the product sticker, when I tried to peel it off part of the product sticker ripped too & the item was not put in a shipping bag/box. I can only guess during shipping the product got damaged with a hole through the back of the box exposing the yarn. Once the item arrived at the post office, as they do with every package, they wrote my name & the date it arrived there down the side of the box. Making it look worse to be gifting. Not in any condition to gift, so now I guess I'm making a rug or having to repackage it without anything on it to show what it actually is. Unfortunately I don't think I would purchase again due to the way items are shipped. It was a huge disappointment & I lost all excitement for this when I picked it up & saw how it was.
Anonymous

Australia
Thank you so much for sharing your feedback! I'm so sorry to hear that you had a bad experience with our packaging. Please rest assured that we will sort out replacing your damaged kit as quickly as possible (I've reached out via private email). We are in the process of moving all of our packaging over to biodegradable plastic mailers, so that the address stickers will no longer be on the box. So all future kits will be shipped safely in mailers. Whilst our original intent was to save on plastic waste, our customers having a great experience is the most important thing for us. Thank you again for sharing your honest feedback. It makes a huge difference in us being able to improve our products so I really appreciate you taking the time to share. Nakisah xx
02/27/2023
Love for Daisy!
Such a fun and easy way to bring creative energy back into my life! Have recommended to friends and family and look forward to my next kit
Leah T.

Australia
02/27/2023
Love a bit of Craft!
Recently received my first rug making kit from Craft Club - easy to use, all materials provided in convenient packages with written and video instruction - finished one "daisy" yesterday evening - awesome!
Linda L.

Australia
07/22/2022
Such a fun little crafty kit
Love having something to do in the evenings when winding down, and a great way to avoid doom-scrolling on socials! Easy, very suitable for the un-crafty/beginners and looks cute too.
Anonymous

Australia
Choosing a selection results in a full page refresh.