BLACK FRIDAY - UP TO 25% OFF RUGS Kits
BLACK FRIDAY - UP TO 25% OFF RUGS Kits
BLACK FRIDAY - UP TO 25% OFF RUGS Kits
BLACK FRIDAY - UP TO 25% OFF RUGS Kits
BLACK FRIDAY - UP TO 25% OFF RUGS Kits
BLACK FRIDAY - UP TO 25% OFF RUGS Kits
CHECK ME OUT Rug Making Kit
Regular price

$59.00

Sale price

$49.00

Unit price

per
✨ Black Friday Sale - Ends Monday 29th November ✨
✨ THE ORIGINAL RUG MAKING KITS ✨

She's a little bit cute & definitely has that y2k energy - our CHECK ME OUT rug making kit screams Pinterest aesthetic. With its lilac checkerboard and bright flowers, it's sure to draw all the eyes wherever you choose to display it.

We're all about making creativity accessible with our easy DIY kits! And we mean easy. With a high quality pre-backed rug base (so you don't need to mess about gluing or sewing) and only one technique to learn - they're easy as pie.

We also believe in loving what you create! Your rug will become a treasured piece of home decor. Not only will you have amazing memories making it, but also using it!

It's time to romanticise the creative in you. You got this.

Ornamental Size: 47cm x 37cm

Floor Rug Size: 68cm x 48cm
What size is right for you?

We're so excited to release new options for rug sizing! Making our rug kits more accessible to different kinds of crafters.

Floor Rug Size - CLASSIC

Approx. 60cm x 45cm they're made to be used as a functional rug. They will take between 20-30hrs to complete.

This size is for you if you want:

a) To use your rug on the floor

b) A longer project with a more rewarding creative experience

Ornamental Size - NEW

Approx. 48cm x 37cm they're made to be used as a decorative piece - ideal for adding texture to a coffee table, under a lamp or even as a shaggy cover for a chair. They take between 8-15hrs to complete.

This size is for you if you want:

a) To try a smaller project with a more accessible price point.

b) To create a decorative piece rather than a functional floor rug.
Each kit includes:

⭐ Detailed and clear instructions

⭐ Premium wooden latch hook

⭐ Professionally-backed rug canvas with printed design

⭐ Pre-cut yarn in each colour (plus loads extra for practice)

You'll also need scissors while completing your rug. We recommend using medium sized scissors that are nice and sharp so you get clean cuts on your yarn!

✂️ You can use any scissors you are comfortable with, but we recommend our 'Rug Trimming Scissors' as they are the perfect size for working on your rug! They are extra sharp and made of high quality steel.
The only other piece of equipment you will need is a pair of scissors.

These can be any kind of scissors - as long as they snip! 

✂️ We love and recommend our 'Rug Trimming Scissors' as they are the perfect size for working on your rug! They are not too big (like kitchen scissors) and not too small (like embroidery scissors) - making them just right for rug making. 

They're also extra sharp and made of high quality steel, so will last you many years into your crafting journey.
Craft Club offers flat rate shipping of $8 for all kits. 

Spend over $120 and get free shipping!

Want it sooner? 📦 We have express shipping available for $15.

Live overseas? ✈️ We ship worldwide with a flat International shipping rate of $20.
Are you a total newbie? No problem!

Here at Craft Club our mission is to make creativity as accessible as possible to all. And we do this by offering DIY kits that are super easy to pick up - even if you've never done a single crafty thing in your life (or at least not since primary school)! 

Our rug kits require one easy skill to learn. And we provide very detailed instructions and a video tutorial on how to master it. Once you've practiced making a knot with your yarn - you'll be on your way!

Just repeat that knot a few hundred times and you'll have yourself a whole rug that you've created with your own bare hands. How amazing is that?! 🧶✨
Customer Reviews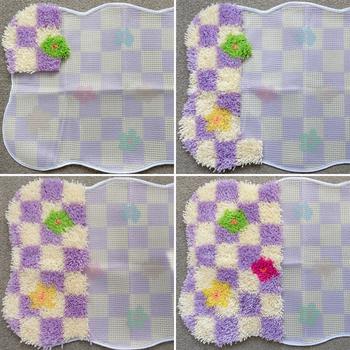 06/20/2022
Loving it
This is my first real craft experience and has been the best lesson in "it's all about the journey, not the destination". It is teaching me to enjoy the process and be present in the moment rather than staring at a screen at night. I love it, it's coming along beautifully!
Laura C.

Australia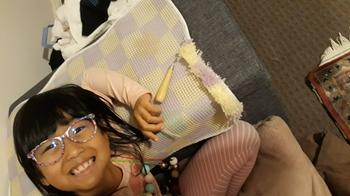 06/19/2022
Rug Kit is so good on so many levels
Three years ago our daughter acquired encephalitis and it has taken two years for her to relearn cognitive, speech, muscle, social and everything school. So this year when I saw the story about Typo stealing your rug kit idea, my first reaction was to buy a birthday present for our daughter that also supported a local Australian company. She and the whole family love the kit and got to work immediately and the hospital's kid brain injury unit said we could not have bought a better present for our daughter. It encourages fine motor skills, colour coordination, conversation and teaches delayed satisfaction. Thank you. Our Craft Club experience has been nothing but stellar.
Adrian B.

Australia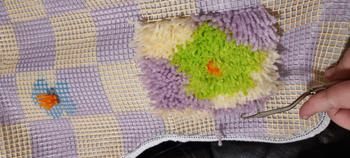 12/31/2021
Love it!
Fast shipping, great kit and a super fun and easy to learn skill. Love the design and can't wait to see it finished.
Julia G.

Australia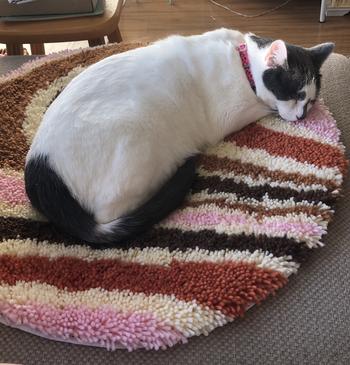 08/26/2021
Love, love, LOVE!
This kit was super intuitive and easy to follow. Such a nice activity during lockdown and what's even better is it's perfect cat size!
Zoe S.

AU
07/17/2022
Love it!
The kit arrived very quickly and it's everything I wanted! It's fun, and perfect to do anytime
Choosing a selection results in a full page refresh.